Overview

A foot bunion is when the big toe gradually deviates inwards towards the second toe and in severe cases may even start to cross over the top or underneath. As the top of the toe moves inwards, the base of the toe (the knuckle part), pushes outwards producing the characteristic lump on outer side of the big toe. The medical term for a foot bunion at the big toe is a hallux abducto valgus, or hallux valgus. ?Hallux? means big toe, ?abducto? means to move away from the midline and ?valgus? refers to the abnormal angle of the toe. Foot bunions can also occur in the little toe, where they are known as a bunionette, but these are much less common.

Causes
Bunions are among the most common problems of the foot. They are several possible reasons a bunion may develop, though a biomechanical abnormality (improper function of the foot) is the most common cause. In an unstable flat foot, for example, a muscular imbalance often develops that, over time, causes bunions. Bunions tend to run in families, and most podiatrists believe that genetic factors play a role in predisposing some people to develop bunions. Poor shoes, like high heels and pointed toe boxes--exacerbate the condition by speeding up the development of bunions, and by making bunions more painful. Poor shoe choices is at least one of the reasons bunions are much more common in women than men.

Symptoms
Look for an angular, bony bump on the side of the foot at the base of the big toe. Sometimes hardened skin or a callus covers this bump. There's often swelling, redness, unusual tenderness, or pain at the base of the big toe and in the ball of the foot. Eventually, the area becomes shiny and warm to the touch. Seek medical advice if you have persistent pain when walking normally in otherwise comfortable, flat-soled shoes, you may be developing a bunion, bursitis, or a bone spur in your foot.

Diagnosis
Bunions are readily apparent, you can see the prominence at the base of the big toe or side of the foot. However, to fully evaluate your condition, the Podiatrist may arrange for x-rays to be taken to determine the degree of the deformity and assess the changes that have occurred. Because bunions are progressive, they don't go away, and will usually get worse over time. But not all cases are alike, some bunions progress more rapidly than others. There is no clear-cut way to predict how fast a bunion will get worse. The severity of the bunion and the symptoms you have will help determine what treatment is recommended for you.

Non Surgical Treatment
Wear comfortable shoes that don't squeeze your toes together. Sandals are ideal in warm weather. Cushioning the bunion with a donut-shaped bunion pad sold at drugstores can prevent any direct rubbing against your shoes. Have your shoes stretched to give your foot more room or consider switching to footwear customized to relieve pressure on the affected area. Soak your foot in warm water to help lessen the pain after a day on your feet. Apply ice packs several times a day to reduce swelling of painful and inflamed bunions. Take aspirin or ibuprofen for the inflammation and pain, and try supplementing with anti-inflammatory herbs such as ginger and turmeric (these work more slowly than the drugs). See a podiatrist for specially fitted shoes or orthotic devices that may help. Sometimes, surgery is necessary. Seek a second opinion before scheduling any operation.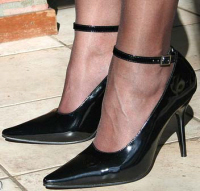 Surgical Treatment
If your bunion has progressed to the point where you have difficulty walking, or experience pain despite accommodating shoes, you may need surgery. Bunion surgery realigns bone, ligaments, tendons and nerves so your big toe can be brought back to its correct position. Orthopedic surgeons have several techniques to ease your pain. Many bunion surgeries are done on a same-day basis, requiring no hospital stay, using an ankle-block anesthesia. A long recovery is common and may include persistent swelling and stiffness.

Prevention
Here are some tips to help you prevent bunions. Wear shoes that fit well. Use custom orthotic devices. Avoid shoes with small toe boxes and high heels. Exercise daily to keep the muscles of your feet and legs strong and healthy. Follow your doctor?s treatment and recovery instructions thoroughly. Unfortunately, if you suffer from bunions due to genetics, there may be nothing you can do to prevent them from occurring. Talk with your doctor about additional prevention steps you can take, especially if you are prone to them.